History of a Angry Man
Another musical movie of the year in Pakistan, BOL The Movie 2011 by GEO Films or GEO Network collaboration with Shoaib Mansoor, Urdu feature film actually main production of Shoaib Mansoor what I know…
Few years ago, Shoaib Mansoor produced his first Cinema Movie production "Khuda Kay Liye" which was truly inspired by "Junaid Jamshed", if you remember "Vital Signs" favorite National Song "Dil Dil Pakistan, Jan Jan Pakistan" and now Junaid Jamshed known as Fashion Designer.
When Junaid Jamshed gets the essence of Islam, then he knows music is Haram in Islam, so he quit from the music world when he was on top of Pakistan Music Industry. Shoaib Mansoor not only a friend of Junaid Jamshed, he was also main producer and musician for Junaid Jamshed, various album of Junaid Jamshed produced by Shoaib Mansoor, when Junaid Jamshed quit from the music industry Shoaib Mansoor decided to produced his first Pakistani Movie and he did it. When the movie "Khuda Kay Liye" released Junaid Jamshed said, Shoaib is my brother and still a good friend, if he has some issue for my quitting from the music industry, he is right to anger; but I'm also in a right place because music is Haram in Islam and I'll never do it again in my life.
Anyway… this is just for introduction of Shoaib Mansoor's Movie production life to know, why and how Shoaib Mansoor is entering in the Pakistani Film Industry.

The Movie BOL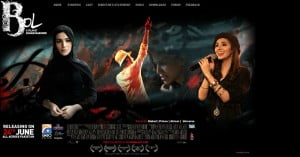 Bol the movie, in English originally speaking, but for movie title it means "say" or "words". I haven't yet watch this movie due to very busy life of professional work as I involve and doing businesses of Software Development, website design, hosting and CCTV Camera solutions, with these businesses, I'm also maintaining and writing articles for this blog which are also very hectic for a one person, have plan to do some clone myself to cut some work load. 😉
Reason to write
For writing articles of current affairs on Pakistan society and culture, I've watching daily news channels and talk shows, one day before releasing of this movie BOL, I was jumping the channel to watch other channel, I heard the BOL movie will release tomorrow… The channel was GEO and the program was "UTHO JAGO PAKISTAN" hosted by Shaista Wahidi, she said; The movie is very outstanding and wonder production of GEO Films and produced by Shoaib Mansoor, I recommended to go all with your family and friends, stop under 15 years of age kids not with you to watch this movie…."
Wow….. Now Pakistan is capable to produced +18 movies which are really shocking… I don't know what Shaista said about this movie, but the basic news and prominent news is under 15 years of age child don't go to watch this movie…
Anyway… Allah better knows about that movie, when I will have spare time to throw it in dust bin… I'll watch this movie.
Cast of BOL and their comments:
Humaima Malik
"I had never played such a challenging character (as I did in "BOL") before. I wasn't even sure I'd be able to pull it off, but I trusted in Shoaib Mansoor to bring out the best in me. I can proudly say now that I've come out as a much stronger person and performer."

Atif Aslam
"I have been getting a lot of films " offers, but I wasn't interested in chocolate-boy roles. "Bol" allowed me to be a part of something substantial. I had my special moments while shooting the film, such as the excited reaction of the children in interior Lahore and the fact that I was performing with a bunch of seasoned actors."

Iman Ali
"My earlier projects with Shoaib Mansoor – Ishq Supreme video and Khuda Kay Liye – raised the bar so high for myself that I was not able to commit to a single film project that came my way afterwards, both in Indian and Pakistan. I kept declining offers, even at the cost of being called finicky. But I knew one thing; if I'd ever do a film again, it had to be a notch higher. "Bol", I believe, fulfilled my wish."

Mahira Khan
"This film has been such a surreal experience for me. It was my first experience in acting, so I was nervous initially but I felt comfortable once we began shooting. There were days when everyone was in a great mood and times when stress levels were high. Now when I think about htose days I miss them. Thank God for Shoaib Mansoor!"
Shafqat Cheema
"After doing over 700 films, with every jack of Lollywood, and also a film with an Indian Director in "Godfather", I believe a badly needed to do a film like "Bol", that would teach me something new. Eventually, I was able to give up the loud and melodramatic style of acting I was used to, and play subtle in front of the camera. I must salute Shoaib Mansoor for that".
Manzar Sehbai
For me, the best part about BOL was the fact that the film's production team was composed of very young, dynamic and hard working people. I felt like I had become their age. Their energy level was so infectious.
Zaib Rehman
"Being a part of BOL after prolonged absence from media was an enthralling experience. It gives me great satisfaction when my director and other team mates say that I have been able to carry out an extremely demanding tragic role. I am thankful to all those who were involved in making of this movie, including my seven daughters, a dear son, and the ever-angry husband in cast and also the camera and makeup crew and all the assistants".

Amr Kashmiri
To be selected by Shoaib Mansoor for his movie was something I could never have dreamt about. Your first movie and on top of it an extremely challenging role was accomplished only because of the suort and guidance of the Director and the senior actors who led me all the way through my difficult role. Having lived in an educated, urban upper middle class cocoon like existence, I experienced for the first time, what life is like in the Dark streets of the Walled City and what it feels like to be born different from others. By the end of the shooting the cast were like a family, I miss all of them.
Sagar
This was my first film. In the beginning when I was going to Lahore, I was nervous. It took me a little time to get adjusted and then I was fine. As Saifi I had many sisters so my real sister who is five years old got jealous that may be I will forget about her. I enjoyed working with the team a lot. All the team members supported me, especially the director, so I accomplished my objective. I am lucky that I worked with Shoaib uncle, who is the best director in Pakistan.
Last but not the least….
SHOAIB MANSOOR
having been so blessed in life, I often think of the things that I should grateful for. The list always seems to be never ending, but invariably it ends at one thing… that I was born as a MAN.
Nothing in the world scares me more than the thought of being born a woman or a eunuch in a country like Pakistan, where obscurantism has deep roots. It is very unfortunate that we make tall claims, full of pride, about the rights of woman granted by our religion and yet when I look around in underdeveloped Muslim countries in general and Pakistan in particular, I find things totally the opposite. Tragically, our interpretation and application of religion seem to begin and end with woman. Leave the 5% urban educated elite aside, women seem to be the playground (battleground) where we practice a medieval form of religion.
At this time you've to watch some trailer of this movie and some song.
http://www.youtube.com/watch?v=CS6E2wORinw

http://www.youtube.com/watch?v=2x9fuobl9A0

http://www.youtube.com/watch?v=R2o6U47wUI8

http://www.youtube.com/watch?v=tdfXy_THnIY



http://www.youtube.com/watch?v=kM9An3V9SGg

http://www.youtube.com/watch?v=eQ1i6H1dgwc



Direct short-and-share link to this page: www.dotcrush.com/?p=2731