Today I've received a wonderful information which remind my childhood hobby. Which was providing a such a good breez from my childhood which was now a dream….
I'll not waste anytime please see the following article of Mr. Aamir Ashfaq, please read his story from his words and I'm sure it will let you in your childhood dream…..
He Said!
Passion of Cars
Cars have always been a passion of mine and still are ……………..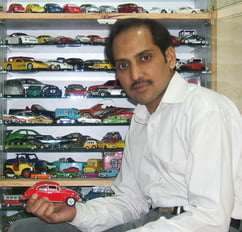 My name is Aamir Ashfaq resident of Lahore, the historical city of Islamic Republic of Pakistan.
No matter what your age, collecting model cars can become an exciting hobby, but also a good investment as many toy cars increase value over time as they are collectible items. This hobby has been around almost as long as the automobile, and yet, it is still a passion of many!
Scaled models are manufactured in a range of scales such as 1:12, 1:18, 1:24, 1:32, 1:43, 1:64 and others. Cars that are especially attractive are those with a real eye to detail. Doors, hoods, trunks and fuel caps that open, ashtrays that slide out and glove compartments that work are some of the realized features. Some models of cars even have hanging ignition keys and removable hood pins to open the hood. Most have working car steering and suspension with real materials used in the interiors.
The best quality I enjoy about myself is my Passion for Cars. I love every single part about these street machines. I love the sound, speed and especially the looks of these rolling masterpieces. The inspiration of cars will never escape out of my mind. This quality about me will never change or alter in any way. I dream them, I feel them and I think about them all the free time I have. You would find Cars Magazines, Cars Brochures on my Shelves and Cars Posters on walls of my room.
I am really attracted to cars and I feel extremely happy when I am in my toy-car showroom. It may be childish but I never feel odd living with my cars. When I was young, toys always had a special place in my heart, and I really liked trains and airplanes too. In fact when I was very young, my parents tried to get me more interested in trains and airplanes but I always came back to my first passion, cars.
My pursuit may not have gone far enough to earn a world record, but such a collection is still unique in Pakistan. Each of my cars has a history, "Memories may fade with time but these cars take me back to moments in the past". When I hold a car in the palm of my hand, I remember things I had forgotten about the past, and this gives me immense joy. In fact, I can't explain it in words.
Diecast car collection is my childhood passion and still continues up to now. Since the age of eight (8) I am collecting model cars which are at present nearly '5000' which I claim is the biggest collection in Pakistan and also unique.
These die-cast models are (Made in USA, England, Germany, Italy, France, Greece, Japan, Hong Kong, Thailand, Malaysia, China, Taiwan, Macao etc.) ….. and the Diecast Makers/Brands are  (Matchbox, Hot Wheels, Majorette, Corgi, Johnny Lightening, Burago, Tomica, Jada Toys, Real Toy, Norev, Maisto, Welly, Siku, Kinsmart etc.)
As I have been engaged with cars since childhood, there are so many pleasant memories with me such as contribution of my great father and mother, especially I miss my lovely mother very much, said good-bye to me (forever) after 2 months of my marriage. She was very caring and always promoted and appreciated my passion. She also educated me how to care things that is why I have my 30 years old toy cars with me today.
I really appreciate my parents and their efforts to promote my passion. They never refused whenever I asked for a Toy Car!
Reminds me of my early childhood, whenever I used to go to the mart with my lovely parents, I'd always pick one toy car and look towards my parents in anticipation that they would buy it for me which they always did even though, I was known as mechanic in those days, the toy cars hardly survived few months under my ownership but still parents the greatest blessing of ALLAH, bought another one for my deadly experiments.
American long automobiles have always impressed me so I have models of American famous cars like Chevrolet, Oldsmobile, Buick, Cadillac, Pontiac, Plymouth and Dodge. Furthermore, British, Italian, French, German, Japanese, Swedish, Australian automobile models are also the part of my extensive collection.
Moreover, I have models of Mercedes Benz, BMW, Audi, Porsche, Volkswagen, Lamborghini, Ferrari, Alfa Romeo, Lancia, Maserati, Fiat, Peugeot, Renault, Citroen, Rolls Royce, Rover, MG, Austin Martin, Austin Healey, Lotus, Morgan, Land Rover, Range Rover, Honda, Nissan, Mitsubishi, Suzuki, Isuzu, Mazda, Toyota, Lexus, Subaru, Saab, Volvo, Holden, Ford, Hyundai, Mini Cooper, Jaguar, Bentley, Vauxhall, Opel, Bugatti, Infiniti, Smart, Seat, Corvette, Hummer and many more.
My favorite car is 1982 Pontiac Trans Am, which appeared in the Hollywood TV Series "Knight Rider". This car used as K.I.T.T. (Knight Industries Two Thousand) in the Series.
It is my dream to drive world's fastest sports car Bugatti Veyron. German inspection officials recorded an average top speed of the original version of 408.47 km/h (253.81 mph) during test sessions on the Ehra-Lessien test track on 19 April 2005. This top speed was verified by James May on Top Gear.
I would like to clear one thing here that it was much difficult to collect a huge number of die cast cars in Pakistan because of their non-availability.
At each time every new car model was very much important for me and it was slept with me under my pillow till another one replaced it. Eid-ul-Fitr, the day full of excitement for me at each year because car models were presented to me as Eid gifts from my parents. Similarly, I always preferred to purchase car models from Eidy.
I have car models of yesteryears too, highlighting my collection as category of "Antique Cars". I have also models of NASCAR, London Bus, London Taxi, American School Bus and Hollywood Movies Cars like (Knight Rider, Dukes of Hazard, Gone in 60 Seconds, The Italian Job, Fast & the Furious Series, Back to the Future, the animated movie CARS and various Cartoon Characters).
My father told me about the Matchbox dinky cars (Made in Great Britain) and Majorette dinky cars (Made in France) which were easily available at Super Stores in Lahore worth Rs.10/- in the year 1977-1978. The friction power Tin toy cars (Made in Japan) were also available in Pakistan in 70s and price was Rs.25/-. I have also few models of Tin toy cars.
This kind of treasure takes decades to build, hours and hours of care but if you have the passion then all that hard-work brings pleasure and always keeps a smile of satisfaction on your face.

AAMIR ASHFAQ

Its my pleasure to have Aamir Asfhaq's hobby on DOTCRUSH.COM and really thankful to him provide such a good and unique passion.