Powering The Pakistan Through Solar Technology
Solar Water Pumping System
It is a well known fact that how the electricity prices are rising. In Pakistan, Pakistan Solar Services (Pak Solar) have something for their clients to feel relaxed about. Their solar water pumping systems make efficient use of solar energy and convert it to electrical energy for pumping water to great heights. The kit they manufacture and supply contains water pump, Solar Module, MS Mounting, Panel Board, DC Pump Controller, KW/H meter, battery and other small electrical operating elements. Pakistan Solar Services saying they are using highly efficient battery bank for their water pumping system, the battery can store sufficient amount of energy for a long period of time.
They are also informed us that "We Pak Solar Services", are the best engineering company in Pakistan who successful designed and installed the "5-inch water pump system". And Pak Solar Services proudly to make Prosperous Pakistan through our outstanding innovation and services.
پاکستان ایک زراعی ملک ہے ، زراعت پاکستان کی معشِت میں ڑیڑھ کی ہڈی کی حیثیت رکھتی ہے. پاکستان کے وہ علاقے جہاں آبپاشی کا نظام موجود نہیں وہاں کسان اپنی زمینوں کو سیراب کیلئے ٹیوب ویل کا استعمال کرتے ہیں ان میں پنجاب، بلوچستان ، سندھ اور خیبر پختونخواں کے دور دراز علاقے شامل ہیں.
آئے دن کی لوڈ شیڈنگ سے نہ صرف کسان مشکلات کا شکار ہیں بلکہ زرعی پیداوار میں بھی کمی واقع ہو رہے ہیں جس کی وجہ سے ملک کثیر زر مبادلہ کمانے سے بھی محروم ہو رہا ہے . کسان بھایؤں کی انہی ضروریات کو مدنظر رکھ کر "پاکستان سولر سروسز" نے ایک انقلابی پروگرام " خوشحال کسان خوشحال پاکستان " شروع کیا ہے جس میں ان کسان بھایؤں کیلئے جو آبپاشی کیلئے ٹیوب ویل کا سہارا لیتےہیں؛ نہایت مناسب لاگت پہ شمسی توانائی سے چلنے والے ٹیوب ویل ڈیزائن کئے گئے ہیں ان ٹیوب ویلوں میں استعمال ہونے والے تمام آلات جرمنی ، اٹلی اور امریکہ سے درآمد شدہ ہیں .
١- شمسی توانائی سے چلنے والے ٹیوب ویل نہایت کم عرصۂ میں سرمایہ کی واپسی کوممکن بناتی ہے
٢- یہ سولر واٹر پمپ بجلی , اسکی لوڈ شیڈنگ اور جنریٹر کے خرچہ سے مستثنیٰ ہیں-
٣- بجلی کی بچت کرتے ہیں.
٤- پچیس سال تک روزانہ 6 گھنٹے مسلسل ، لاکھوں لیٹر پانی کی دستیابی سے فصل کی پیداوار میں اضافہ.
تو آئیں کسان اور ملک کی خوشحالی کے اس مشن میں پاکستان سولر سروسز کا ساتھ دیں.
MAIN FEATURES:
5 inch Customized Solar Water Pumping System is Durable and rugged Quiet Environmentally friendly Renewable energy source Reliable Low maintenance Fully integrated system Easy to install Sun tracking option available.
Dynamic maximum water point tracking (MWPT) control method ensure stable operation.

Pak Solar Services system pumps up to 40% more water than other solar water pumping systems.

Highly intelligent power management module ensures high reliability and up to 98% conversion efficiency.

Anodized aluminum case for power module and solar tracking structure.

Long life stainless steel Pumps.

Highly efficiency induction motors.

Automatic switch between speed governing and rated speed modes.

Water-level detection and control circuit options available

The system requires external battery for backup during low sun light.

Additional installed (KWH) meter to check how much energy consume through solar system.

Extra circuit breaker for safety and protection.

High efficiency inverters drive pumps equipped with high power induction motors

Utilizes the dynamic VI maximum power point tracking (MPPT) control method and maximum water pumping tracking. 

Fully automatic operation. It can freely set speed range of pump based on the actual solar irradiation level.

Operation data can be logged for up to 8 years.

Intelligent power module with conversion efficiency up to 99%

Full electrical protection with water-level detection and control circuit to prevent overflow and dry extraction.

Anodized aluminum case. Enclosure class: IP41,. Ambient temperature, -10-+50.C.

CE Certified. 
CUSTOMIZED FEATURES (FOR EVERY PAK SOLAR WATER PUMPING SYSTEM):
Solar Panel:Own design system for solar water pumping system to get efficiency result.
MS Mounting: For the protection of solar panel, Pak Solar Services design its own MS Mounting which protect solar panel and system for 25 years, which is differentiate between other solar water pumping system provider in Pakistan.
Cable: Pak Solar Services produce cables from branded company for its system stability, 16mm pure copper for solar array and 6mm 4 core for pump to provide earthing protection and water proof.
Battery: Pak Solar Services always using efficient and maintenance free battery for every solar projects to provide not only performance its also for protection of system frequency and client safety.
Panel Board: Pak Solar Services using panel board for the Health, Safety and Environment (HSE). We providing very easy to operate panel for our clients, with very secured and tricky system which is secure to operate by any other unauthorized person. Unfortunately which is not available by any other solar system service provider in Pakistan.
DC Pump Controller: Its made according to the Green Environment with 99% efficiency, this DC pump controller wasted minor electricity other than regular DC pump controller available in the market. With this DC pump controller manage system by automatically and manually adjustable trip time.
KW/H Meter: Pak Solar Services facilitate to its customer to easily find result how much they save diesel and electricity cost from this customized Pak Solar Services Solar Water Pumping system on daily/monthly basis.
Click following image to see Pakistan Solar Services Customized 5 Inch Solar Water Pumping System diagram.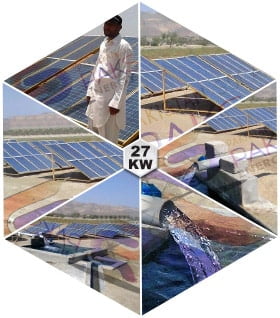 You may visit at http://www.paksolarservices.com  to contact them for your solar requirements.
Best of Luck