Around one year ago, a scam circulated and various website scam watcher warn company owners about a scammy World Trade Register business registration offer. Now, a new version of the scheme has emerged. MX Lab says the new emails appear to come from "EU Business Register <register@ ebrbusinessreg.eu>" and they're entitled "EU Business Register 2013/2014.″
Today I've received same email from "EU Business Register <register@ ebrbusinessreg.eu>" with following pdf file name "EBR.pdf" screen shot as follows: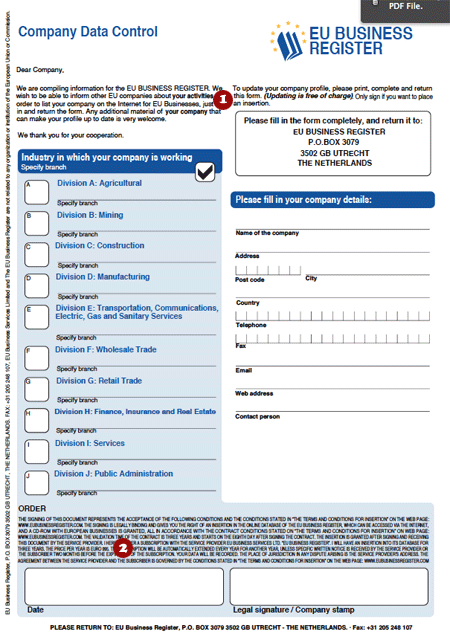 The notifications read something like this:
"Dear Madam/Sir,

In order to have your company inserted in the EU Business Register for 2013/2014, please print, complete and submit the attached form (PDF file) to the following address:

EU BUSINESS REGISTER
P.O.BOX 3079
3502 GB UTRECHT
THE NETHERLANDS

Fax: +31 205 248 107

Updating is free of charge.
Similar to the old scam, while the email says the process is free, the form that's attached to it – which recipients must fill out and send back to the company – reveals that those who sign the document must pay close to €1,000 ($1,270) for a period of three years.
This particular scam has been making the rounds for quite some time. Every once in a while, the name of the company and its website are changed.
The latest website, ebrbusinessreg.eu, has been registered in March by someone in Romania.
Other names used for this scam are: World Company Register, World Trade Register, EU Business Register, Euro Trade Register and World Business Directory.
If you come across such emails, ignore them. The representatives of many companies have reported receiving such shady offers.
In some cases, the scammers threatened to pursue legal action against those who refused to pay. However, most of their victims said that the crooks stopped after their threats were ignored.
Interestingly, companies from all over the world are targeted. We've received reports from Saudi Arabia, the United Kingdom and other countries.